Abandoned Arch Bridge - Stanton
All photos taken by Alex Nitzman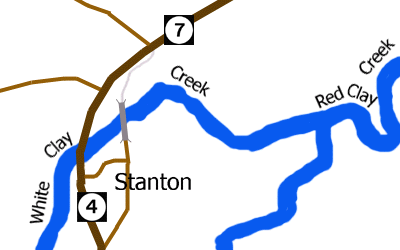 The often flooded Delaware 4/7 arch bridge was closed around 1985, upon opening of the new six lane roadway to the west. The White Clay Creek crossing was permanently closed to vehicular traffic and now only carries a pedestrian/bicycle path.
| | |
| --- | --- |
| | Old Delaware 4 & 7 remains in service as Stanton-Christiana Road east of the current six-lane highway. One of the reasons for the construction of the new alignment was the often flooded Amtrak Northeastern Corridor underpass. The narrow undercrossing is depicted here and remains from a previous rainfall show how flood prone the underpass is. Photo taken 08/31/04. |
| | Upon emerging from the Amtrak Northeastern Corridor underpass, Stanton-Christiana Road intersects the north access road between it and the current Delaware 4 & 7. A Delaware 7 trailblazer directs drivers back onto the main highway. Photo taken 08/31/04. |
| | Continue a short distance north of the north access road to current Delaware 4 & 7 and one encounters the abandoned concrete arch bridge. Foliage has overtaken much of the approach to the bridge leaving the span open as a play area for local kids wanting to wade in the White Clay Creek below. Photo taken 08/31/04. |
| | A closer look at the concrete arch bridge deck and superstructure as seen during the early spring. Photo taken 03/00. |
| | The north bank of the White Clay Creek offers this vantage point of the bridge looking east. The low clearance of the bridge above the creeks waters gives a good idea of how little rainwater was needed to deluge the bridge. Photo taken 03/00. |
| | Turning back toward the south along Stanton-Christiana Road is a set of Delaware 4 & 7 trailblazers for the north access road. Other than a school bus yard, the trailblazers face the abandoned bridge and basically nonexistent traffic. Photo taken 08/31/04. |
| | Ascending the north access road from Stanton-Christiana Road to the modern Delaware 4 & 7. The old roadway provides a loop between Delaware 4 & 7 in the Stanton area. The northern junction of the loop is signalized, existing just south of the Delaware Park Race Track entrance, St. James Church Road, and Delaware 4 & 7 split. Photo taken 08/31/04. |
---
The Lost Highway is copyright © 2005 by Jeffrey Carlyle. All photographers retain rights to their photographs. The Lost Highway was originally developed by Andy Field and Alex Nitzman for AARoads.